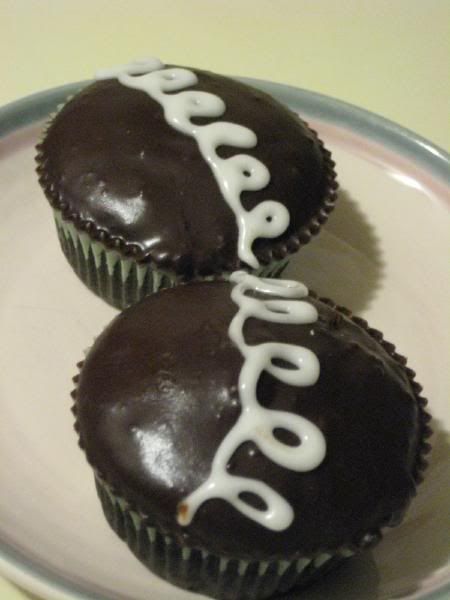 The more I'm on here, looking up recipes, figuring things out, I'm starting to see the preponderance of the food blogger. Every vegan likes to blog about food-- which is great, because for the most part, a lot of us need an online community to find great food places and to find good recipes. It's not as readily accessible as non-vegan restaurants and foods. But today, I'm making a pact. I'm sorry I polluted the internet with crappy posts with recipes from the Veganomicon or Vegan with a Vengeance. We've clearly over-killed Isa recipes [[to the left, her delicious fauxstess cupcakes, as done by me]]. I'll try to add more to your life than spam it. So, in the spirit of not spamming you-- I'll give you the coolest things I've tried recently.
In case you haven't tried them yet, I'm here to tell you, this is the best
Snickerdoodle recipe
, and sugar cookie recipe for that matter, I've tried so far [[I did the soft version, but I still needed it in there for a whole 15 minutes]]. The recipe was also a little dry for me, so I had to add 5 tablespoons of water. And just to warn you, in case you're not experienced [[as I'm not terribly experienced yet]], don't make the mistake of over-baking them. I took them out, and they were still soft to the touch. They keep cooking when you let them cool, so even if they're a little gooey, it's ok.
**My addition to think recipe: 1/3 cup sugar plus 2 teaspoons cinnamon mixed really well give it a great balance of sugar to cinnamon.
More to come one some local restaurants and a black bean soup recipe from this weekend.
<3
[[photo credits as always to the hubby, Andrew Warner]]